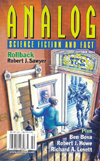 Most of the crew were already at their stations when general quarters sounded on the SGC Malagasy: the delta-vee alarm always brought curious off-watch personnel to the pilothouse and engineering control room.
PT3 Mansourian, on throttle watch, was the first to notice the radiation leak, and the first to die. Because of a design flaw in the ventilation system, there were some dead spots in the air circulation and the steady ooze of highly radioactive coolant hadn't reached any sensors to trigger an alarm. Mansourian used the IC to tell the engineering officer of the watch about the leak.

Read more in the October 2006 issue of Analog Science Fiction and Fact (print only)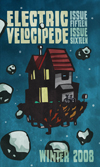 It shouldn't be taking this long–two years in October–Barney thought.
Two years since Yvonne hadn't come home. Two years since the phone woke him in the middle of the night with disaster in its ring. Two years of going to sleep with a hole in his heart, and two years of waking up to emptiness.
Barney did all the right things. He consulted with a priestess, sacrificed to the gods, and wore nothing but animal skins for his season of mourning. But when he doffed his pelts for the last time, the dull numbness that was supposed to come away with them stayed.
Read more in the Winter 2008 issue of
Electric Velocipede
I took the Will Charbonneau case on the same day an exceedingly creepy ex-boyfriend reentered my life. The way the case played out, and the reason the pinhead smashed back into my life, were intimately related. It would have saved me no end of trouble if I'd known that from the start.
I'm on the phone with my mother. "So are you seeing anybody?" she asks. Coming from my mother that's not a question, it's a deep pit full of scorpions and irritable cobras. From her second generation, Italian-American perspective, the way my 34-year-old uterus was going unused was a disaster on a par with Frank Sinatra's death.
Read more in the Spring 2010 issue of
Black Gate (#14)