"having shot children" is the first line of the first poem in Ryan Stovall's poetry collection, Black Snowflakes Smothering a Torch. War didn't let him off easy, and his book isn't letting us off easy.
Stovall served as a Green Beret (U.S. Army Special Forces) medic during the war in Afghanistan. Twice wounded, he has seen the elephant and been seen by it. He styles his collection a primer for civilians to speak to veterans about their experiences, but the poems also hold a mirror up to civilian life—and not in a flattering way:
I want to win the New way
the urban stylish civilized way
the learned pretentious academic way
the polite two-faced ingratiating way
the slap you on the shoulder
shoot you in the back way
if it will keep my memories at bay
then I will smile and smile
and be a villain
This is an intimate book. Stovall doesn't digest war for the reader: he brings it back raw and sets it on the kitchen table, burned and red and leaking blood on the place settings. If you're going to "talk to your veteran" (as he styles it), you need to taste some of war's melancholic illogic, brute humor, and horror unfiltered. The title poem—the longest in Stovall's collection—is a chain link fence of associations that marks the boundary between the civilian world and the world of war. Like most great poetry it is felt rather than understood: a shock wave that can leave the unarmored reader invisibly changed:
even some of us pipe-hitting HALO studs
return afraid of everything
from sudden movements
to failure
from disapproval
to dissecting aortas
to displaying cowardice
or courage
This book is not war tourism, and it is not easy—hardest, it seems, for Stovall himself ("some rocks should never be pushed aside"). His ambivalence about seeing and telling is part of what gives his poetry power and depth. Black Snowflakes is deeply humanistic approach to war writing that does not explain nor condescend. As poetry, as truth telling, as confessional, as jeremiad, this collection will live long in the attic of your soul.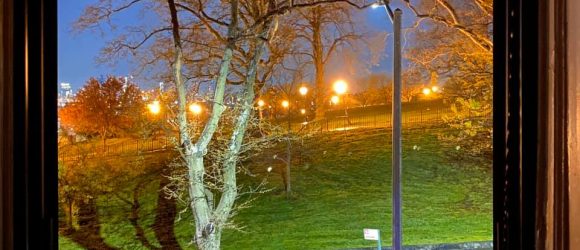 Fear makes you stupid,
and it doesn't matter
what you're afraid of.
Camouflage goes with everything
which is another way of saying
value substance over style.
You shouldn't seek positions of responsibility
unless you're willing to make difficult decisions.
Books are not medicine;
read what you love.
Rust never sleeps:
that does not absolve you of your responsibility
to sand it away and apply fresh paint as necessary.
There is no finish line.
We are creatures of loss and creatures of joy.
Let yourself have both, or you'll have neither.
You can't attend to the fall of every sparrow: that's god's job, and even he doesn't appear to be up to it. And if you run around telling all the people, "the sparrows, the poor sparrows!" You'll just exhaust yourself and everyone else. Catch the sparrows you can. The ones within reach. The ones that flutter in your eaves. The ones that land on your table and beg for crumbs. That is your portion. Think of it as god delegating.
I get it: you're waging a war on ignorance and suffering. Good. Worthy cause. Start with yourself. You can't sit with someone else's pain unless you can sit with your own. And I don't mean to make it sound easy: it is hard.
Books about doing fly off the shelves; books about being languish on the remaindered table. Work that little koan around in your head when a freight train full of shoulds pulls into the station. All the things you should be doing are a wall between you and yourself.
Animals with big brains play. Nothing is built into the OS without a reason: be suspicious of anyone who tells you that play is a side effect. You eat to play. If Calvin and your employer say otherwise, it's not because they have your best interests at heart.
I'm telling myself this—you, you who are reading this, are just witnesses. I'm the one who needs to wrestle with these questions. I know they sound like statements, but if I'm going to know anything worth knowing, and write anything worth reading, I should start with the admission that I don't have the keys to the kingdom, either.