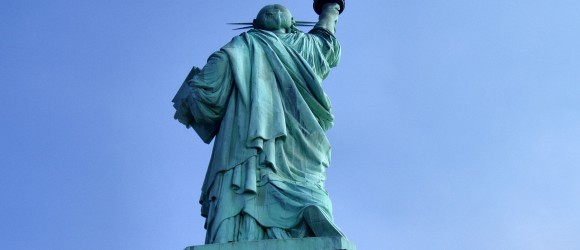 Who is the most patriotic
American?
Is it me, born into a cocoon
Of postwar Americanness
and nurtured on a diet of Wonder Bread
and red, white, and blue TV
(good guys wear olive drab),
or is it The Other
–seduced by the Scylla and Charybdis
of opportunity and equality–
to cross oceans and deserts, to
ford brown rivers and bluff
hard-faced men at iron gates.
I'm not sure I know
What It Means to Be Free,
raised up staring at
Liberty's back;
having to read Emma's verse
in the funhouse mirror.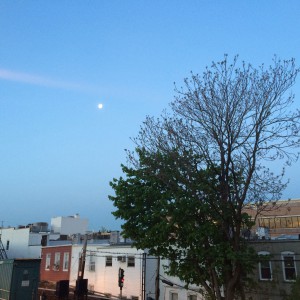 I'd forgotten the sky
existed,
until I saw the moon today;
two hundred and thirty eight thousand miles above
my earthbound fears.
I've driven cars that far,
if not any one car,
on city streets and highways, and once,
disastrously, on a logging road,
cut though an Oregon forest
like a coroner's incision;
perfectly straight, perfectly functional, and perfectly ugly.
Only booted feet and gloved hands have
touched the moon, and
at that, it has driven men
quietly insane.
the sleepy commuter army
hung with backpacks and hard hats
newspapers and handbags
in disorderly queue
looking down
the track for that morning
train
we snap sheepishly awake
when the station lights go out
photosensitive reveille
as morning pulls into the station