Season of the Long Now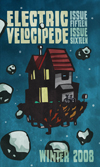 It shouldn't be taking this long–two years in October–Barney thought.
Two years since Yvonne hadn't come home. Two years since the phone woke him in the middle of the night with disaster in its ring. Two years of going to sleep with a hole in his heart, and two years of waking up to emptiness.
Barney did all the right things. He consulted with a priestess, sacrificed to the gods, and wore nothing but animal skins for his season of mourning. But when he doffed his pelts for the last time, the dull numbness that was supposed to come away with them stayed.
Read more in the Winter 2008 issue of
Electric Velocipede